EMERGENCY VHF/UHF/HF
Search & Rescue (SAR) is a round the clock service providing emergency cover for the military and civil population through HM Coastguard, Royal Navy, RAF & Mountain Rescue Teams (MRT).
Rescue is mounted by Helicopter, Boats & Nimrod Aircraft. Currently there are 12 bases off the coast of the UK, providing 24 hr emergency cover. Divided up as 6 RAF, 4 Coastguards & 2 Royal Navy.
MRT's are based at 5 locations:
1. RAF Stafford
2. RAF Leuchars
3. RAF Kinloss
4. RAF Leeming
5. RAF St Athen
All movements are under the control of SAR Kinloss (Kinloss Rescue).
The main primary frequency used in UK is 5.680Mhz which is the international frequency.
Other frequencies: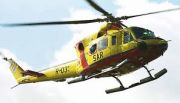 2.182 mhz Calling & Distress (Marine)
3.023 mhz International SAR night
3.089 mhz UK SAR night
4.718 mhz UK SAR night
5.680 mhz Internationl SAR day
5.699 mhz UK SAR day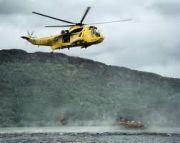 121.500 mhz VHF Guard
123.100 mhz NATO Scene of Search
156.800 mhz Calling & Distress (Marine)
243.000 mhz UHF Guard
244.600 mhz NATO Scene of search
252.800 mhz NATO SAR Training
282.800 mhz NATO scene of search
Guard frequencies are used when an area is to be set up around the danger area to notify anyone in the visinity.
SAR Callsign Type Location
———— ——- ———
Rescue 11-17 Nimrod RAF Kinloss
Rescue 117 S-61N HMCG Sumburgh
Rescue 118 S-61N HMCG Sumburgh
Rescue 119 S-61N HMCG Stornaway
Rescue 120 S-61N HMCG Stornaway
Rescue 122-124 Sea King RAF Valley (22Sqdn)
Rescue 125-127 Sea King RAF Wattisham (22Sqdn)
Rescue 128-130 Sea King RAF Leconfield (202 Sqdn)
Rescue 131-133 Sea King RAF Boulmer (202 Sqdn)
Rescue 137-139 Sea King RAF Lossiemouth (202 Sqdn)
Rescue 140 Wessex RAF Aldergrove
Rescue 141-142 Wessex/Puma RAF Aldergrove
Rescue 143-144 S-61N BP Forties Field
Rescue 145-146 Bell 212 Shell Brent Field
Rescue 169-171 Sea King RAF Chivenor (22 sqdn)
Rescue 172 S-61N HMCG Portland
Rescue 173 S-61N HMCG Portland
Rescue 174 S-61N HMCG Lee on Solent
Rescue 175-176 S-61N HMCG Lee on Solent
Rescue 177-179 Sea King RNAS Prestwick (819 Sqdn)
Rescue 193-199 Sea King RNAS Couldrose (77 Sqdn